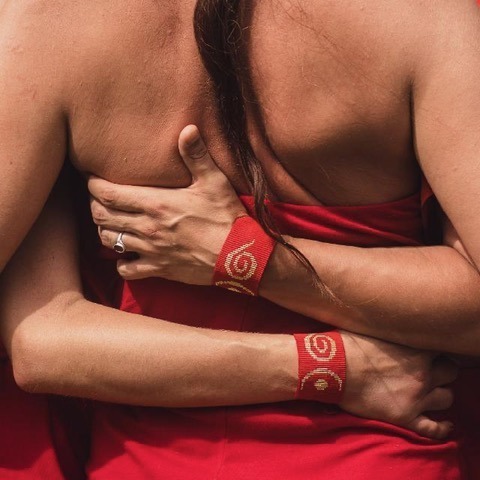 (polska wersja poniżej)
RED TARA – BODY LOVE & SEXUAL EMPOWEREMENT (Poland)
FACILITATED BY KRISTIN MAGNUS & ANNA SOKOLEK
 A transformative journey with Red Tara as your guide, where the focus is on embracing body love and sensual empowerment. Allow Red Tara to lead you in reclaiming your sexual energy and pleasure, awakening your sensuality and sensitivity to attain a blissful state of being.
Throughout this module, we will delve into the art of reconnecting with our bodies. Through the powerful tools of movement, breathwork, self-massage, and massage exchange, we will explore ways to facilitate the free flow of energy within us. This exploration invites more pleasure, aliveness, and relaxation into our system.
Together, we will tune into our own sensitivity and emotional intelligence, enabling us to approach touch from a space of innocence and lovingness. This experience provides a unique opportunity to release shame and unravel the mysteries held within your own body.
Consider this an invitation to awaken the sensual, passionate, and fierce feminine essence within you. It's a transformative step toward living authentically, embracing your own authority, and inviting spontaneity and true expression into each moment of your life.
In this course you will 

– Open to the free flow of sexual energy.
– Awaken Body Sensitivity through touch.
– Learn the language of Female Orgasm.
– Celebrate your natural beauty without imitating social stereotypes.
– Discover the Support of The Intimate Circle of Women

This course is mostly experiential, we will practise

– Tantra Meditations and Rituals,
– Massage,
– Emotional Release,
– Dance Celebration,
– Intimate sharing and Silence
where: Here and Now Center, Poland
when:  March 11 – 17-2024
more info and booking
Janet.
________________________________________________________________________________
CZERWONA TARA:
przebudzenie kobiecości
Nadszedł czas, byśmy my kobiety, odzyskały swoją energię seksualną kierując uwagę na nasze ciała, pozwalając sobie na odczuwanie w pełni…
Tantra łączy seks, serce i ducha.
Poprzez świadomość ciała w połączeniu
z dynamicznymi, medytacjami tantrycznymi, możemy uzyskać dostęp do wyższych stanów świadomości i błogości przyjemności seksualnej.
Stańmy razem w swojej nagości. Nadszedł czas, aby wyzwolić się i świętować naszą dzikość, czułość, intensywność i piękno, którymi jesteśmy. Odzyskajmy swoją moc! Nauczmy się, jak poddać się sile kosmicznego orgazmu, śmiać się i płakać w ekstazie, pozwalając sobie na łzy smutku, radości i zachwytu, widząc w sobie całe piękno, którym jesteśmy.
Będąc w swojej kobiecej mocy i autentyczności, całe życie staje się orgazmem. Stajemy się kobietami orgazmicznymi!
PODCZAS TEGO WARSZTATU:
– Otworzysz się na swobodny przepływ energii seksualnej
– Pokochasz swoje ciało
– Nauczysz się czerpać przyjemność z ciała
– Będziesz celebrować swoje naturalne piękno, nie oglądając się na stereotypy kulturowe
– Staniesz się świadoma swojej wewnętrznej mocy, swojej dzikości, zmysłowości i mądrości
– Obudzisz swoją wrażliwość i zmysłowość
– Odkryjesz moc swoich emocji
– Uwolnisz blokady do pełnej ekspresji seksualnej
– Odkryjesz na nowo swoje ogromne możliwości, jakie daje przyjemność
– Poczujesz pierwotną, świętą moc Kręgu Kobiet.
PRAKTYKI PODCZAS WARSZTATU:
– Medytacje i rytuały tantryczne
– Oddech i praca z energią
– Masaże tantryczne
– Taniec
– Dzielenie się kręgu
– Świadomość i ciszę
Dołącz do nas w drodze do samopoznania, aby stać się odrodzoną, promienną, zmysłową i mądrą kobietą!
CZERWONA TARA – przebudzenie kobiecości
11 – 17 marca 2024
Prowadzą: Kristin Magnus & Anna Sokołek
Zapisy i informacje: