When:
July 3, 2020 – July 9, 2020
all-day
2020-07-03T00:00:00+02:00
2020-07-10T00:00:00+02:00
Where:
Pirineos (Barcelona)
LES ERES DE GUARDIOLANS – Crta. de Berga a Ripoll (c-26) km 161
1 – 08613 Vilada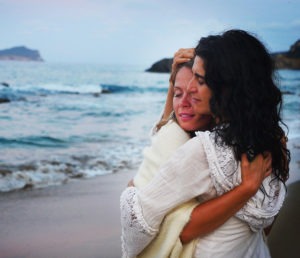 (English version below)
WHITE TARA – EL PODER DEL AMOR
Facilitadoras: Santoshi y Premamui
¡Toda Mujer necesita estar En-Amor!
El Amor Es… más allá de tus sueños románticos. El Amor es tu propia NATURALEZA. Cuando una mujer está enraizada en su corazón, las puertas se abren a su paso.
Este módulo te invita a sumergirte en tu interior, utilizar tu cuerpo como puente hacia tu ser y descubrir la fuente de Amor que palpita en tu interior. Se enfoca en recuperar nuestra espontaneidad y capacidad de comunicar nuestros sentimientos e intenciones, con claridad y gentileza. El primer paso es enfrentar nuestras esperanzas y temores. Esto solo puede ocurrir cuando nos sentimos lo suficientemente seguras para abandonar nuestras defensas, atreviéndonos a mostrar nuestra vulnerabilidad con honestidad. Solo entonces, es posible disolver los patrones de limitación, que han estado mostrándose dentro y fuera como resultado del condicionamiento.
Nuestro objetivo es crear un entorno seguro y de apoyo, donde escuchar sin juicio, para que podamos ser más auténticos.
Juntas creamos un espacio íntimo y seguro donde re-descubrir nuestras cualidades esenciales, donde inspiramos y nutrirnos mutuamente.
White tara te invita a:
– Despertar a quien realmente eres
– Descubrir todo tu potencial como mujer.
– Aprender a abrazar a tus sombras.
– Despertar tu belleza y tu brillo interior.
– Transformar cada momento de tu vida en un acto de amor.
Aprenderás a:
– Ser asertiva y a expresar tu verdad desde el Amor.
– Abrirte para sentir, soltando tus defensas y haciéndote más vulnerable.
– Reconectar con tu linaje femenino y abrazar viejas heridas.
– Eliminar los obstáculos que impiden que el amor fluya por tu cuerpo.
– Explorar tu mundo emocional: transformando la ira en Poder, las lágrimas en Amor.
– Aprender a relajarte y respetar tus propios ritmos.
Beneficios:
– Descubre el poder de la hermandad.
– Desarrolla el don femenino del Amor Sanador.
– Atrevete a ser auténtica. Aprendiendo a decir SÍ y NO
– Nutre tu cuerpo con El Arte del Tacto Amoroso.
– Enamórate de ti misma.
– Despierta tu sensibilidad
Las Prácticas incluyen:
– Meditaciones y rituales tántricos
– Respiración
– Tacto Consciente
– Danza y celebración
– Compartir y Silencio
Este curso es parte de la Formación Base de TANTRA WOMAN, un viaje profundamente transformador a nivel personal y que además te empoderará para comenzar a sostener tus propios círculos de mujeres.
Precio: 980€ (Inscripciones hasta el 29 Febrero 2020: 900€)
Plazas limitadas, reserva pronto!
Contacto: Rous |
LUGAR: LES ERES DE GUARDIOLANS – Crta. de Berga a Ripoll (c-26) km 161,1 – 08613 Vilada (Barcelona)
EVENTO EN FACEBOOK
________________________________________
English version:
WHITE TARA – THE POWER OF LOVE
Women need to be in love!
Love is something more than your romantic dreams of finding the "perfect man" who will make you happy for ever…..Love is your very NATURE."
White Tara is the goddess of Love and Authenticity. She shows you that when a woman Stands in Her Truth, Rooted in her Heart, any door opens to her.
This module is an invitation to dive into the inner-world, to use the body as a bridge to the being, and to discover the source of love within. It focuses on recovering our spontaneity and ability to communicate our feelings and intentions, with clarity and gentleness. The first step, is to face our hopes and fears. This can only happen when we feel safe enough to drop our defences, daring another level of vulnerability and honesty.  Only then, it is possible to dissolve patterns of limitation, which have been playing inside and outside as a result of conditioning.
Our aim is to create a safe and supportive environment, where listening without judgement, so we can become more Authentic.
White tara invites you to:
– Wake up to whom you truly are
– Discover your full potential as a woman.
– Learn to embrace your Shadows.
– Awaken your inner beauty and shine.
-Transform each moment of your life in an act of love.
You will learn to:
– Be assertive and stand for yourself while being center and loving.
– Open to feel, dropping your defences and becoming more vulnerable .
– Reconnect with your feminine lineage and embrace old wounds.
– Remove the obstacles that avoid the flow of love to move through your body.
– Explore your emotional world: learn to transform anger into Power, tears into Love.
– Learn to Relax and respect your own rythms.
Benefits:
– Discover the Power of sisterhood.
– Develop the feminine gift of Healing Love.
– Becoming Authentic. Learning to say YES and NO.
– Nourish your body by The Art of Loving Touch.
– Fall in Love with yourself.
– Awaken your sensitivity and sense of Beauty.
Practices includes Tantra Meditations and Rituals, Conscious Touch, breath, dance and playfulness, silence and awareness.
"Awakening as Love, is not an achievement. It is a blossoming of your own being."
This course is part of the TANTRA WOMAN Training, a deeply transformative journey on a personal level that will also empower you to start supporting your own women's circles.
Price: 980€ (Registrations until 29 February 2020: 900€)
Limited spaces, book soon!
Contact: Rous |
VENUE: LES ERES DE GUARDIOLANS – Crta. de Berga a Ripoll (c-26) km 161,1 – 08613 Vilada (Barcelona)