When:
October 30, 2020 @ 6:30 pm – November 1, 2020 @ 6:00 pm
2020-10-30T18:30:00+02:00
2020-11-01T18:00:00+02:00
Where:
Helsinki
Shanti Yoga school
Runeberginkatu 43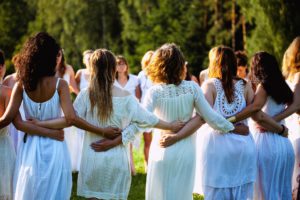 Women need to be in love! Love is something more than your romantic dreams of finding the "perfect partner" who will make you happy forever… Love is your very NATURE."
When a woman is rooted in her heart any door opens to her. This course is an invitation to dive into the inner- world, to use the body as a bridge to the being, and to discover the source of love within.
Relaxing together as a sacred gathering of women, learning and healing each other by giving and receiving the true gift of the Feminine: Love in its purest form.
We will use Dance, Massage, Rituals, tantric meditations, breath, open heart sharing, powerful therapeutic techniques and awareness.
We will learn to be assertive and stand for our truth while being centered and loving.
We will empower our hearts by:
– Loving our bodies;
– Healing old wounds.
– Embracing deep Feelings.
– Bringing Love to our sexuality.
Santoshi and Anya Heidi will facilitate this workshop and offer a loving space where you can immerse yourself in the love that you are.
Costs
1. price category (tickets 1-10) 240 €
2. price category (tickets 11-20) 260 €
3. price category (tickets 21-28) 280 €
Timetable: Friday 18:30-21:00, Saturday 10:00-19:00, Sunday 10:00-18:00
Teaching only in English
Possibility to stay the night in the group room for 5 women 15€/night
Registration and questions:
You are welcome, either new or experienced in tantra!
Find Tantra Woman Finland on Facebook!