When:
December 4, 2020 @ 6:00 pm – December 6, 2020 @ 6:30 pm
2020-12-04T18:00:00+02:00
2020-12-06T18:30:00+02:00
Where:
Helsinki
Shanti yoga school
Runeberginkatu 43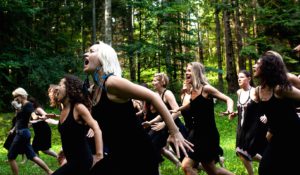 Reclaim your Feminine Power by releasing old tensions from your solar plexus and by relaxing into the receptivity of the heart.
As modern women, we learned to become financially, emotionally and even sexually independent. We found the "strength" in the solar plexus and gave up the softness, sensitivity and vulnerability of our hearts. No woman can be satisfied in this essential compromise.
Supported by a circle of women you will Learn:
– To be clear and assertive while centered and loving
– Master your Emotions while being true to your feelings and needs
– Discover True Feminine Power: Relax and Flexible yet
Radiant!
Practises include Tantra Meditations, Breath and Energy work,
Emotional release, Massage, Intimate sharing, Silence and Fun.
Kristin and Anya Heidi will hold a loving space where you can step into your personal power!
Costs
1. price category (tickets 1-10) 240 €
2. price category (tickets 11-20) 260 €
3. price category (tickets 21-28) 280 €
Timetable: Friday 18:30-21:00, Saturday 10:00-19:00, Sunday 10:00-18:00
Teaching only in English
Possibility to stay the night in the group room 15€/night
Registration and questions:
You are welcome, either new or experienced in tantra!
Find Tantra Woman Finland on Facebook!