When:
August 28, 2020 @ 5:00 pm – August 30, 2020 @ 5:00 pm
2020-08-28T17:00:00+03:00
2020-08-30T17:00:00+03:00
Where:
Elontuli Retreat Center
Merkniementie 94
09120 Karjalohja (Lohja)
Cost:
420 € (early bird 390€)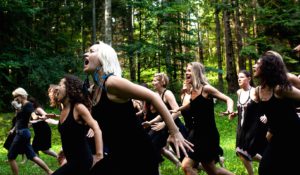 Reclaim your Feminine Power by releasing old tensions from your solar plexus and by relaxing into the receptivity of the heart.
As modern women we learned to become financially, emotionally and even sexually independent. We found the "strength" in the solar plexus and gave up the softness, sensitivity and vulnerability of our hearts. No woman can be satisfied in this essential compromise.
Supported by a circle of women you will Learn:
– To be clear and assertive while centered and loving
– Master your Emotions while being true to your feelings and needs
– Discover True Feminine Power: Relax and Flexible yet
Practises include: Tantra Meditations, Breath and Energy work,
Emotional release, Massage, Intimate sharing, Silence and Fun.
Santoshi and Tantra Woman Team will facilitate this journey to empower you to embrace your personal power.
From 28th to 30th August 2020
Price: 420 €, early bird 390 € (until 31.7.)
Friday Arrival from 17.00, Dinner is served from 17.30
On Sunday we end at 17.00
Location: Elontuli Retreat Center
Merkniementie 94, 09120 Karjalohja (Lohja)
You are welcome, either new or experienced in tantra!
Limited places, confirm your spot through
This course is part of women's tantra training using the seven chakra map: From Sex to Spirit. At this course, we will focus on the 3rd Chakra. You are welcome to join the training at any point and can take the courses individually and in the order they suite best to you. You will receive a certificate on completion of the chakra journey.
Find Tantra Woman Finland on Facebook!