When:
November 6, 2020 @ 6:30 pm – November 8, 2020 @ 7:00 pm
2020-11-06T18:30:00+01:00
2020-11-08T19:00:00+01:00
Where:
Barcelona
Happy Yoga Laforja
Carrer de Laforja 118
08021 Barcelona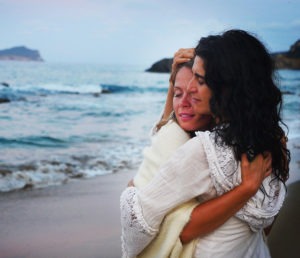 (English version below)
WHITE TARA  – EL PODER DEL AMOR
FACILITADORAS: Premamui y Maha Devi
¡Como mujer necesitas estar enamorada!
El Amor va más allá de tus sueños románticos de encontrar al "hombre perfecto" que te hará feliz para siempre. El Amor es tu propia NATURALEZA.
Cuando una mujer está enraizada en su corazón, las puertas se abren a su paso. Este curso te invita a sumergirte en tu interior, utilizar tu cuerpo como puente hacia tu ser y descubrir la fuente de Amor dentro de tí.
Creamos juntas en un espacio sagrado e íntimo de mujeres, donde aprendemos, nos inspiramos y nos sanamos las unas a las otras, ofreciendo y recibiendo nuestros dones más esenciales.
Beneficios de este proceso:
Aprenderás a ser asertiva y a mostrar tu verdad, desde tu centro, desde el Amor. Empoderaremos nuestros corazones:
– Amando nuestros cuerpos
– Sanando viejas heridas
– Abrazando nuestros sentimientos
– Llevando presencia a nuestra sexualidad
Las Prácticas incluyen:
– Meditaciones y rituales tántricos
– Respiración
– Tacto Consciente
– Danza y celebración
– Compartir y Silencio
Este curso es introductorio a la formación TANTRA WOMAN, un viaje profundamente transformador, que además te empoderará para comenzar a sostener tus propios círculos de mujeres.
Lugar:
Happy Yoga LaForja
C/Carrer de Laforja, 118
08021 Barcelona
Horarios:
Viernes 18:30-21:30, Sábado 10:30-19:30, Domingo 10:30-19:30
Al inscribirte ya te enviaremos información detallada de lo que necesitas traer, etc.
Precio: 210€ (Inscripciones antes del 31 Julio 2020: 180€)
Plazas limitadas, reserva pronto!
Contacto: Rous |
________________________________________
English version:
WHITE TARA – THE POWER OF LOVE
Women need to be in love!
Love is something more than your romantic dreams of finding the "perfect man" who will make you happy for ever…..Love is your very NATURE."
White Tara is the goddess of Love and Authenticity. She shows you that when a woman Stands in Her Truth, Rooted in her Heart, any door opens to her.
This module is an invitation to dive into the inner-world, to use the body as a bridge to the being, and to discover the source of love within. It focuses on recovering our spontaneity and ability to communicate our feelings and intentions, with clarity and gentleness. The first step, is to face our hopes and fears. This can only happen when we feel safe enough to drop our defences, daring another level of vulnerability and honesty. Only then, it is possible to dissolve patterns of limitation, which have been playing inside and outside as a result of conditioning.
Our aim is to create a safe and supportive environment, where listening without judgement, so we can become more Authentic.
White tara invites you to:
– Wake up to whom you truly are
– Discover your full potential as a woman.
– Learn to embrace your Shadows.
– Awaken your inner beauty and shine.
-Transform each moment of your life in an act of love.
You will learn to:
– Be assertive and stand for yourself while being center and loving.
– Open to feel, dropping your defences and becoming more vulnerable .
– Reconnect with your feminine lineage and embrace old wounds.
– Remove the obstacles that avoid the flow of love to move through your body.
– Explore your emotional world: learn to transform anger into Power, tears into Love.
– Learn to Relax and respect your own rythms.
Benefits:
– Discover the Power of sisterhood.
– Develop the feminine gift of Healing Love.
– Becoming Authentic. Learning to say YES and NO.
– Nourish your body by The Art of Loving Touch.
– Fall in Love with yourself.
– Awaken your sensitivity and sense of Beauty.
Practices includes Tantra Meditations and Rituals, Conscious Touch, breath, dance and playfulness, silence and awareness.
"Awakening as Love, is not an achievement. It is a blossoming of your own being."
This course is a introduction of the TANTRA WOMAN Training, a deeply transformative journey on a personal level that will also empower you to start supporting your own women's circles.
Price: 210€ (Registration until 31 July 2020: 180€)
Contact: Rous –
Venue:
Happy Yoga LaForja
C/Carrer de Laforja, 118
08021 Barcelona
Schedule:
Friday 18:30-21:30, Saturday 10:30-19:30, Sunday 10:30-19:30
FACILITATED BY PREMAMUI AND MAHA DEVI