When:
December 3, 2020 – December 8, 2020
all-day
2020-12-03T00:00:00+01:00
2020-12-09T00:00:00+01:00
Where:
Pirineos (Barcelona)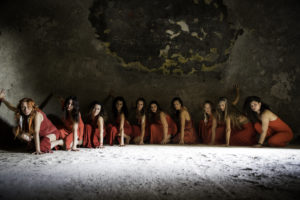 (English version below)
RED TARA – EL PODER DE LA SEXUALIDAD FEMENINA
Facilitadoras: Santoshi y Premamui
Bienvenida al templo de la Diosa.
¡Un espacio para SER TU MISMA!
Es hora de que las mujeres recuperemos nuestro placer y el poder de nuestra sexualidad. El Tantra despierta tu sensualidad y te conecta con tu energía natural y gozosa.
En un círculo de mujeres conscientes dejamos caer las mascaras que nos limitan y nos apoyamos a encarnar la mujer Libre, Sensual y Sabia que llevamos dentro. Juntas aprendemos a rendirnos al orgasmo cósmico, a reír y a llorar lágrimas de éctasis al descubrir nuestra propia belleza.
Beneficios de este proceso:
– Despierta tu sensualidad.
– Disuelve las limitaciones de tu expresión sexual y gozosa.
– Aprende el lenguaje del orgasmo femenino.
– Celebra tu belleza natural, libre de estereotipos sociales.
– Experimenta el Poder del Círculo Intimo de mujeres.
Las Prácticas incluyen:
– Meditaciones y rituales tántricos
– Respiración y liberación emocional
– Tacto Consciente
– Danza y celebración
– Compartir, Intimidad y Silencio
Este curso es el primer módulo de la Formación Base de TANTRA WOMAN, un viaje profundamente transformador a nivel personal y que además te empoderará para comenzar a sostener tus propios círculos de mujeres.
Precio: 880€ (Inscripciones antes del 15 Agosto 2020: 810€)
Plazas limitadas, reserva pronto!
Contacto: Rous |
EVENTO EN FACEBOOK
________________________________________
English version:
RED TARA – THE POWER OF FEMININE SEXUALITY
Welcome into the temple of the feminine. A space to BE YOURSELF!
It is time for women to reclaim our energy and immense capacity for pleasure.
Through Tantra Meditations you can access a blissful state of being and regain the means to your own sexual pleasure.
"Let us unveil together!. Drop the false layers of conditioning and support each other to shine the Wild, Sensual and Wise woman Within.
Together we learn how to surrender into cosmic orgasm, laugh in ecstasy and cry tears of joy at the beauty that we hold within us."
In this course you will:
– Open to the free flow of sexual energy.
– Awaken Body Sensitivity through touch.
– Learn the language of Female Orgasm.
– Celebrate your natural beauty without imitating social stereotypes.
– Discover the Support of The Intimate Circle of Women
This course is mostly experiential, we will practise:
– Tantra Meditations and Rituals,
– Massage,
– Emotional Release,
– Dance Celebration,
– Intimate sharing and Silence
This course is the first module of the TANTRA WOMAN Training, a deeply transformative journey on a personal level that will also empower you to start supporting your own women's circles.
Limited spaces, book soon!
Price: 880€ (Registrations until 15 August 2020: 810€)
Contact: Rous |
FACILITATED BY SANTOSHI AMOR & PREMAMUI