When:
September 13, 2019 @ 6:30 pm – September 15, 2019 @ 6:00 pm
2019-09-13T18:30:00+03:00
2019-09-15T18:00:00+03:00
Where:
Helsinki
Shanti Yoga School
Runeberginkatu 43
Cost:
270 € (early bird 230 €)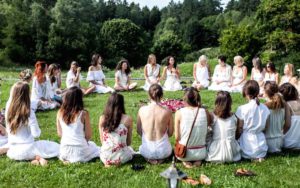 THE WISE WOMAN – INTUITIVE POWERS
Hidden in every woman there is a "WITCH" or better said "A WISE WOMAN".
Explore among other women your ability to be receptive, drop into the unknown and start living from your intuition rather than your mind.
An opportunity to:
– Access your intuitive wisdom
– Discover your unique gifts
– Be spontaneous and creative
– Become a channel of energy by shifting from "Doing" to "Being"  
– Trust your own mystical knowing and personal power
Practises include: Tantra meditations and rituals, Shamanic journeys, Emotional spaciousness, Intimate sharing and Conscious movement and touch
International Tantra teachers Santoshi & Anya Heidi will provide a unique space to discover your hidden potential.
Schedule: Fri 18:30-21:00, Sat 10:00-19:00, Sun 10:00-18:00
COST: 270 € EARLY BIRD (230 € before 20.8.2019)