When:
November 28, 2021 – December 8, 2021
all-day
2021-11-28T00:00:00+01:00
2021-12-09T00:00:00+01:00
Where:
Spain
Les Eres de Guardiolans – Crta. de Berga a Ripoll (c-26) km 161
1 – 08613 Vilada (Barcelona)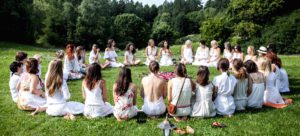 FORMACIÓN FACILITADORAS DE CÍRCULOS DE MUJERES
Esta es una formación para mujeres que están listas para comenzar y/o profundizar su invitación como facilitadoras de Círculos de mujeres Tantra Woman.
Para participar en esta formación es necesario haber completado la Formación Base y Avanzada. Si ya estás dando cursos y deseas participar puedes solicitar una entrevista con Santoshi.
Este curso te dará una comprensión profunda de las dinámicas de grupos y en especial de cómo facilitar círculos de mujeres. Exploraremos cómo crear un ambiente de grupo amoroso y de apoyo, donde las mujeres se sientan seguras para abrirse y confiar para exponerse.
Aprenderemos y practicaremos el arte de liderar y compartir abiertamente de una manera profunda, y de cómo potenciar una presencia meditativa en la sala. La visión está arraigada en la perspectiva de Osho de que, como líder de un grupo, debes convertirte también en participante, no solo un guía sabio, sino además una amiga.
Recibirás los conocimientos fundamentales para guiar meditaciones y rituales de Tantra.
Aprenderás:
Cómo crear un espacio Seguro y Sagrado
– A usar tu voz para apoyar el espacio que estás sosteniendo
– A navegar por las diferentes energías en el grupo
– A sentir cuándo seguir al grupo y cuándo guiar
– Lo que aporta profundidad a un proceso grupal
– Cuándo y cómo manejar la 'negatividad' o 'perturbaciones'
– A responder a los diferentes "tipos" de participantes, incluyendo a todos
– Equilibrio entre las estructuras grupales y el compartir abierto
– Lo que da y quita la fuerza al líder del grupo
"Sostener" o "Ayudar"
En estos 7 días, examinamos nuestro papel como "facilitadora de grupo" y lo que significa "sostener".
Nuestro enfoque se basa en la meditación y en la comprensión de que la ayuda real no requiere presión ni intención y que conecta a la persona con una verdad más profunda en su interior. El amor consciente tiene un profundo respeto por el otro y por el destino de su vida.
"La sanación sucede a través de nuestra capacidad de estar presente y en un espacio amoroso con otra persona."
Plazas limitadas, reserva pronto!
________________________________________
TEACHERS TRAINING – TANTRA WOMAN FACILITATOR TRAINING
A training for women who are ready to start and/or deepen their offer as guides of Tantra Woman Circles.
In order to attend you must have completed the 3 modules of the Basic Training or to have a proven experience in Osho Tantra groups with other teachers.
This course will give you a deeper understanding of group dynamics and specially on how to hold women circles. We will look at how to build a supporting, loving group atmosphere, where women feel safe to open and trust to expose themselves.
We will learn and practice the art of leading and open-sharing in a profound way, and how to enhance a meditative presence in the room. The vision is rooted in Osho's view that as a group leader you need to become a participant too, not only a wise guide, but a friend.
Here you will receive the foundation knowledge to guide Tantra meditations and Rituals.
"We need the stories of the women who are already sharing so others can remember too, and feel inspired to step into their power, into their calling, not only for their own sake but because life depends on it"
You will Learn:
How to create a Safe and Sacred space
– Use your voice to support the space you are holding
– Navigate the different energies in the group room
– Sense when to follow the group and when to guide
– What brings depth to a group process
– When and how to deal with 'negativity' or 'disturbances'
– Respond to different 'types' of participants while including everyone
– Balance between group structures and open sharing
– What gives and what takes away strength from the group-leader
"Holding" versus "Helping"
In these 7 days we examine our role as a "group facilitator" and what "holding" means.
Our approach is based in meditation and in an understanding that real help is without pressure and without intention and connects a person to a deeper truth within. Conscious love has a deep respect for the other and his life destiny.
"Healing happens through our ability to be present and in a loving space with another person."
Limited spaces, book soon!
FOR MORE INFO AND BOOKINGS: