When:
March 15, 2021 – March 21, 2021
all-day
2021-03-15T00:00:00+01:00
2021-03-22T00:00:00+01:00
Where:
"Tu i Teraz" POLAND
POLAND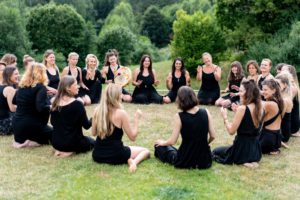 This course is only for those women who have completed at least two basic courses with Santoshi. Priority will be given to those who have participated in the whole basic Tara training (Red, White and Green Tara).
TARA ADVANCED: The Integrated Woman
With santoshi & Kristin
An opportunity to dive deeper into the mysteries of the feminine body. Opening to your natural sensual and sexual expression; removing shame from the root and together healing our bodies from past wounding experiences.
By embodying masculine energy, we learn to trust the masculine with in. We make peace with MEN.
In our linage, our present life and in the world and learn how to cultivate the masculine within so our feminine can shine in its fullest. We learn to surrender while staying in our power and beauty.
We root ourselves deeper into meditation, so we learn to bring our feminine presence and grace to each moment of our life.
In this course you will:
Explore in depth your body
Heal past wounds stored in your system
Reconcile with your Male lineage
Meet your Inner Man and value his role in your life
Learn to surrender and trust (yourself, men and ultimately life itself)
Some of the benefits of this process:
Become finally truly empowered as a woman
Become more familiar with your inner dance of male and female energies
Allow your masculine to hold you so your feminine can finally trust and relax in life and in relationship with men
Trust yourself deeper
The Practices include:
Osho Active Meditations
Tantra meditations and rituals
Yoni healing and Sacred Spot ritual
Shamanic journeys
Breath and Energy work
Tantra Massage
Group sharing, Awareness and silence
DATES: 2 – 8 of August 2020 (Sunday – Saturday)
VENUE: "Tu i Teraz" in Poland, Nowe Kawkowo (near to Olsztyn)
CONTACT: Anna
+ 48 516 006 388